Responsive Design
Template Features:
Magone Responsive Blogger Template is one of the best stylish magazine template for your blog. You can use this template for many niche like news, games, technology blog or magazine blog. This theme will help you to get more ad exposure with low bounce rate. If you are looking for something unique for your blog, then may be this theme is best option for you. Blue, Magazine, Responsive, News, Email Subscription Widget Ready, Social Bookmark Ready, Browser Compatibility, Post Thumbnails, Drop Down Menu, 3 Columns Footer, 1 Right Sidebar, 1 Sidebar, 2 Columns.
Of course, this feature is required. I checked every test with Google and the result is awesome. Your visitor will like a mobile design like this one.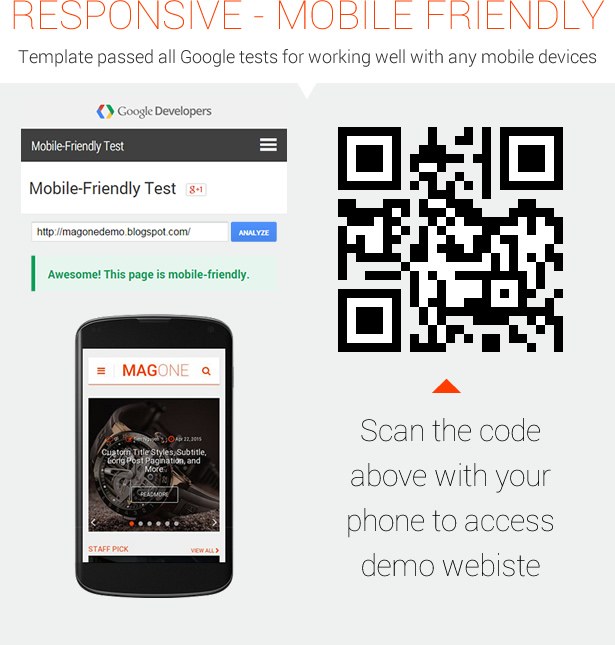 Super Support Services
If you bought my templates before, you will clearly know about my support service (even with free items around here). I do everything seriously and fast, I know you need a support service like that.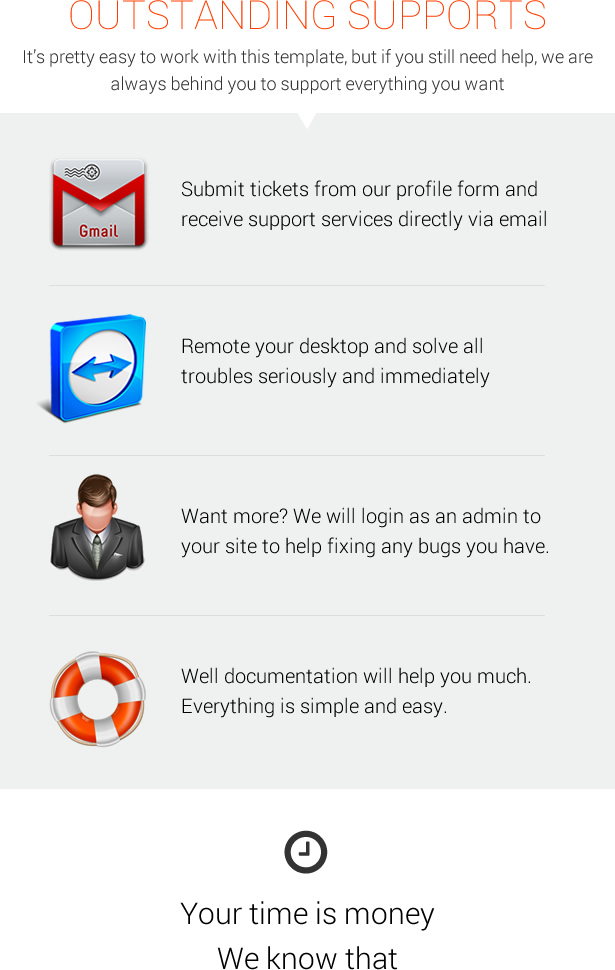 Multiple Comment Systems
This feature is now one of most important feature for any Blogger template, special with premium template. The new thing in this release is you can set primary comment system as you want and add API ID to moderate any comments on your blog.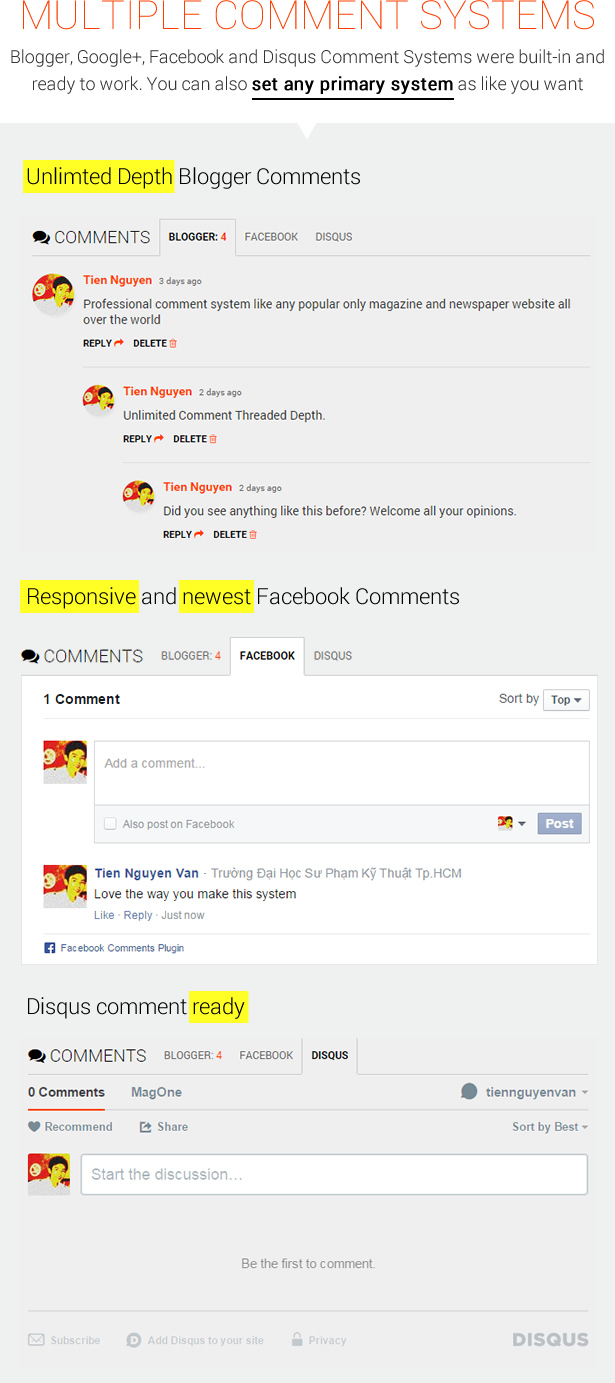 Everything Ready for Articles
Two new things I applied for this template are that you can set feature image and can change style of main title, also can add subtitle. Pagination for long posts is available in another template and also included in this template. Ads placement is not new but you will surprise with how I show it in Blog admin layout.

Powerful Advance Designer Tool
Similar with my other premium template, MagOne supports advance designer also. But this template has flexible width, so you can change site wrapper wider if you want.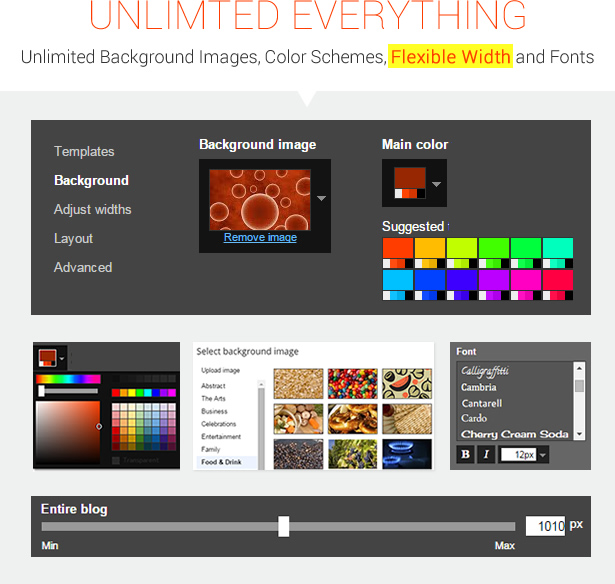 Template Options
This is the first time I apply SpotSettings for my template. SpotSettings is a tool that allow you change template option very easy. I want to raise Blogger template to a new standard.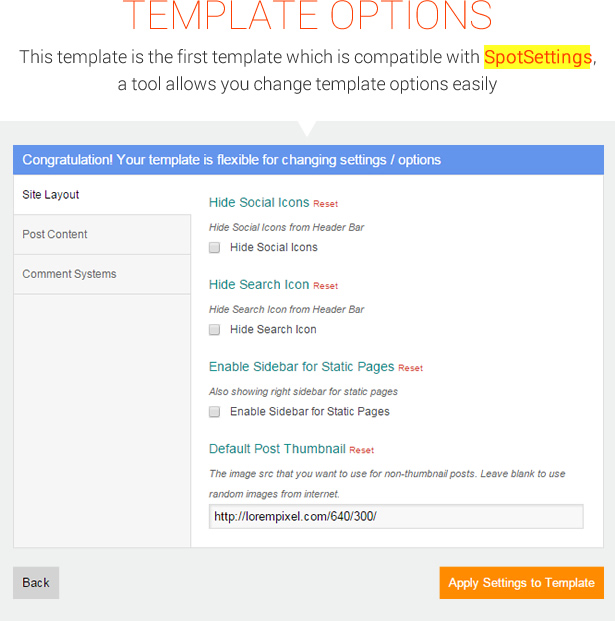 Translation Ready
This is also the first time I apply SpotLingo rules for my template. SpotLingo will help you translate your template fast and easy. This will be also the new standard for Blogger.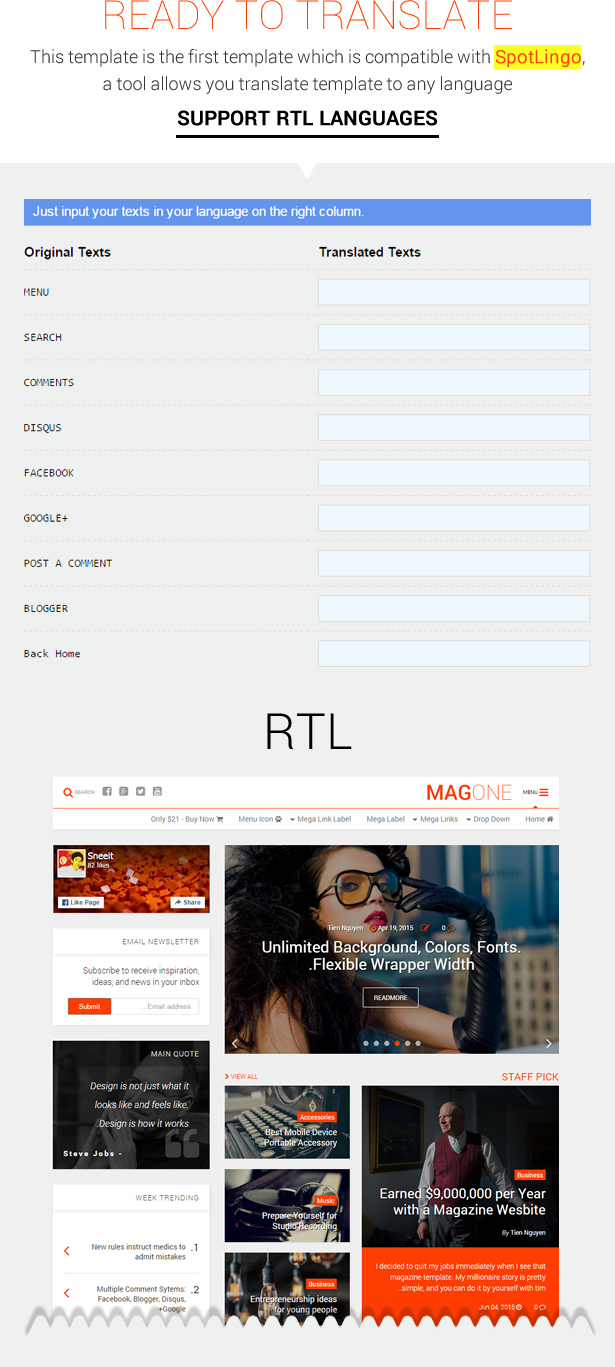 Features
Responsive
Mobile Friendly
SEO Friendly
404 Page
Related Post
Random Post
Breadcrumbs
Back to Top Button
Footer Menu
ShareThis Share Button
Featured Recent Post
Newsletter Widget
Sticky Sidebar
Image Lightbox
Sitemap Widget
Fixed Menu on Mobile
Shortcodes